Navigating the world of freshwater fish stores in the vast USA can be both exciting and a bit overwhelming. With so many online options at our fingertips, it's like being a kid in a candy store. But hold on, not so fast! This world of convenience isn't without its pitfalls.
You see, buying fish online isn't quite like ordering a new pair of shoes. There's a lot to think about. How healthy are the fish? What's the reputation of the store? How do they handle shipping, and what's their customer service like? Make a wrong move, and you could end up with a tank full of trouble instead of those beautiful fish you were dreaming of.
That's where I come in. I've been where you are, and I know the struggle. So, I turned to the places I trust the most: Trustpilot, Yelp, and Reddit. Real people, real experiences, real reviews. I've sifted through them all to bring you a list of the top freshwater fish stores in the USA.
So whether you're an old hand at this or just dipping your toes into the water, I've got your back. These recommendations aren't just names on a page; they're a pathway to a successful and joyful aquatic experience. Happy fish shopping!
1. The iFISH Store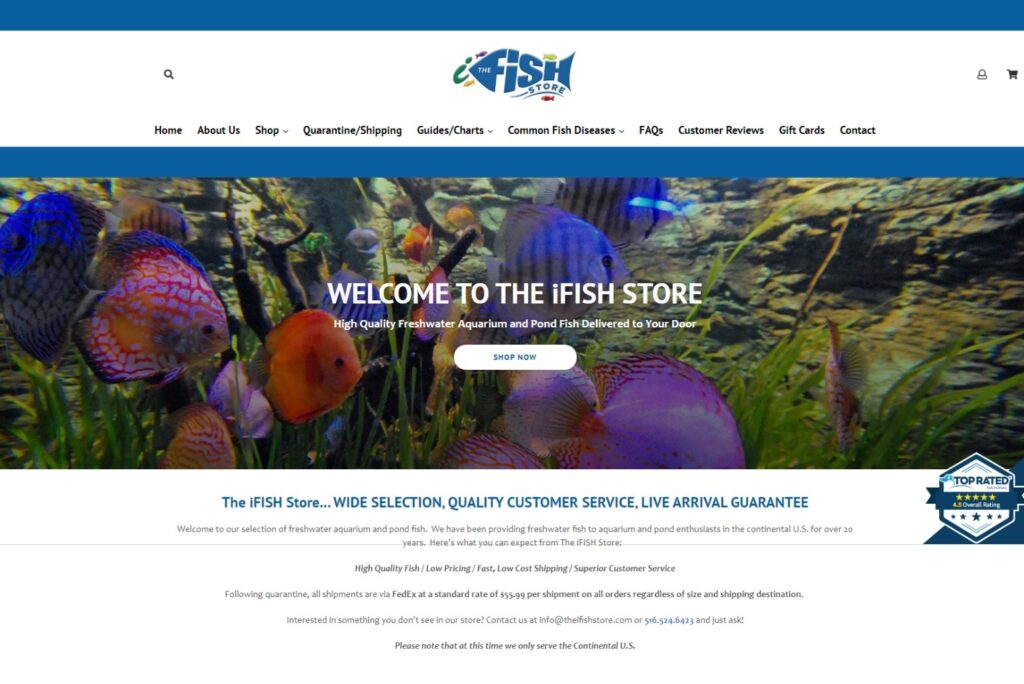 Located in the beautiful Richmond Hill, United States, The iFISH Store shines like a guiding light for all freshwater fish enthusiasts. With over 20 years of experience, this store has carved a niche for itself in the vast world of aquarium and pond fish. Their online presence is a testament to their commitment to quality and customer satisfaction. With a sprawling selection that caters to both novice and seasoned fish keepers, The iFISH Store is more than just a shop; it's a haven for those passionate about aquatic life.
The store boasts an impressive rating of 4.6 stars based on over 4,156 reviews on Trustpilot. Such a high rating in the Tropical Fish Store category is no small feat and speaks volumes about their dedication to excellence. But numbers only tell half the story. The real essence of The iFISH Store lies in the experiences of its customers.
Javier Blanco, a recent customer, shared his delightful experience, stating, "Fish were perfect. I am very happy with the great colors. They were healthy, and I would highly recommend." His review, dated July 17, 2023, is just one of the many positive testimonials the store has received.
2. Aquarium Plants
Located in the beautiful city of Tampa, AquariumPlants.com has solidified its reputation as a leading expert in freshwater aquarium plants. With a tagline boasting the "freshest aquarium plants in the industry," the shop has garnered significant attention from aquatic enthusiasts across the country.
A quick glance at their Trustpilot profile reveals an impressive rating of 4.4 stars, based on a whopping 1,757 reviews. Such a high rating in the Animals & Pets category is no small feat, and it's evident that the shop has managed to win the trust of many.
Among the myriad of reviews, one from Nancy Hollack caught my eye. She writes, "I have purchased pond plants all over the US. Most didn't make it a week. These plants were amazing. Still thriving. Customer service was UNBELIEVABLE! They really care that you receive great plants in 2 days. Very reasonable shipping. Best I have found!" Her review, dated July 23, 2023, is a testament to the shop's commitment to quality and customer satisfaction.
AquariumPlants.com not only stands out for the high quality of its plants, but also for its exceptional customer service. Many reviewers, like Nancy, have highlighted the shop's dedication to ensuring that customers receive their plants in the best possible condition and in a timely manner.
3. AquaCave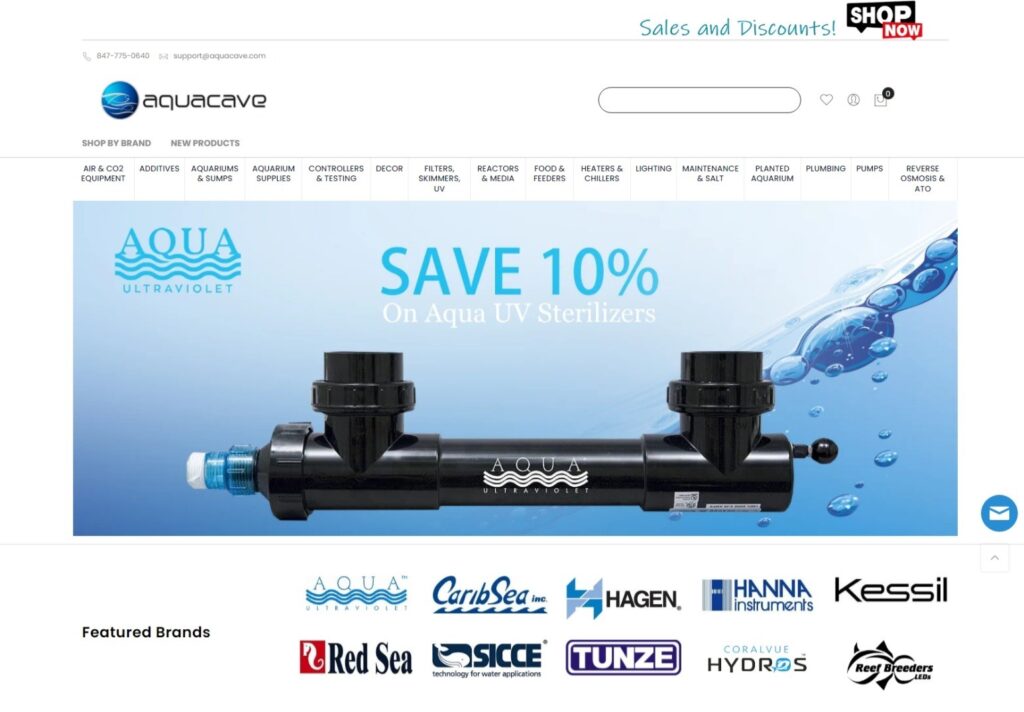 AquaCave, located in the picturesque town of Gurnee, Illinois, has emerged as a leading authority in the world of top-notch aquarium supplies. From reef aquariums, planted aquariums, to essential equipment like LED lighting, protein skimmers, and RO/DI systems, they offer a comprehensive range of products for aquatic enthusiasts. Their online presence at aquacave.com showcases their dedication to providing top-notch aquarium solutions.
With an impressive rating of 4.5 stars based on 44 reviews on Trustpilot, AquaCave has garnered the trust and admiration of many customers. A significant 84% of these reviews are 5-star, indicating high levels of customer satisfaction.
One of the many satisfied customers, Stephen Wojculewski, shared his experience on July 2, 2023, stating, "Customer Services really go out of their way to help. Able in customer service at aquacave goes above and beyond in customer service. He helped me out with a refund of faulty equipment by taking full ownership of the issue." Such testimonials underscore the commitment AquaCave has towards ensuring a seamless shopping experience for its patrons.
4. Good Joseph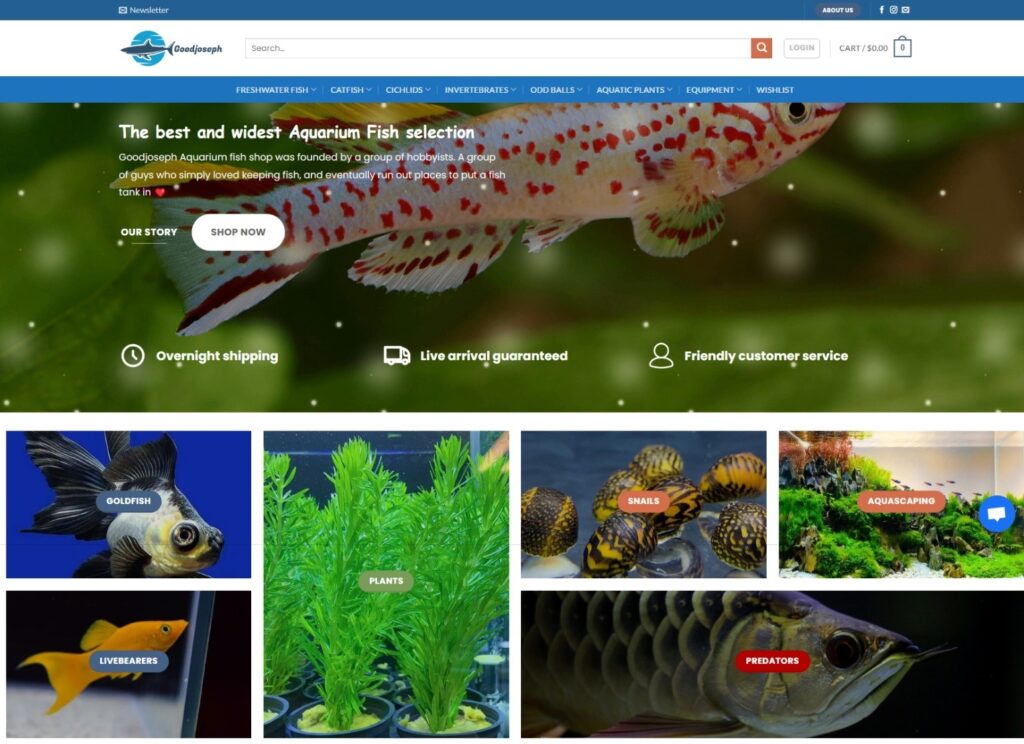 Nestled in the heart of Grandview, the Goodjosephlivefishstore stands as a beacon for fish enthusiasts. With a mission to bring the best fish from around the globe, they source from local farms in Florida, breeders in Europe, and even wild collections from the Amazon. Their commitment to quality is evident, as they ensure that their fish are larger, sturdier, and healthier than many competitors in the market.
The store boasts a commendable rating of 4.0 on Trustpilot, based on 98 reviews. This rating is a testament to their dedication to customer satisfaction and the quality of their products. A majority of the reviews are positive, with 76% of them being 5-star ratings.
One of the buyers, Tommy Shaw, shared his experience on August 1, 2023, saying, "Great service. Great packaging and fast shipping. I'm happy with my purchase." His review echoes the sentiments of many other satisfied customers who have praised the store's efficient service and quality of fish.
However, like any business, Goodjosephlivefishstore has its share of challenges. Some customers have pointed out issues with their orders or the type of fish received. But what stands out is the store's commitment to addressing these concerns, as they have replied to several negative reviews, showcasing their dedication to customer feedback and continuous improvement.
In conclusion, Goodjosephlivefishstore is a trusted name in the world of aquaculture. Their dedication to sourcing the best fish, combined with their commitment to customer satisfaction, makes them a top choice for fish enthusiasts. Whether you're a seasoned aquarist or a newbie looking to dive into the world of fishkeeping, this store promises a delightful experience.
5. Trinsfish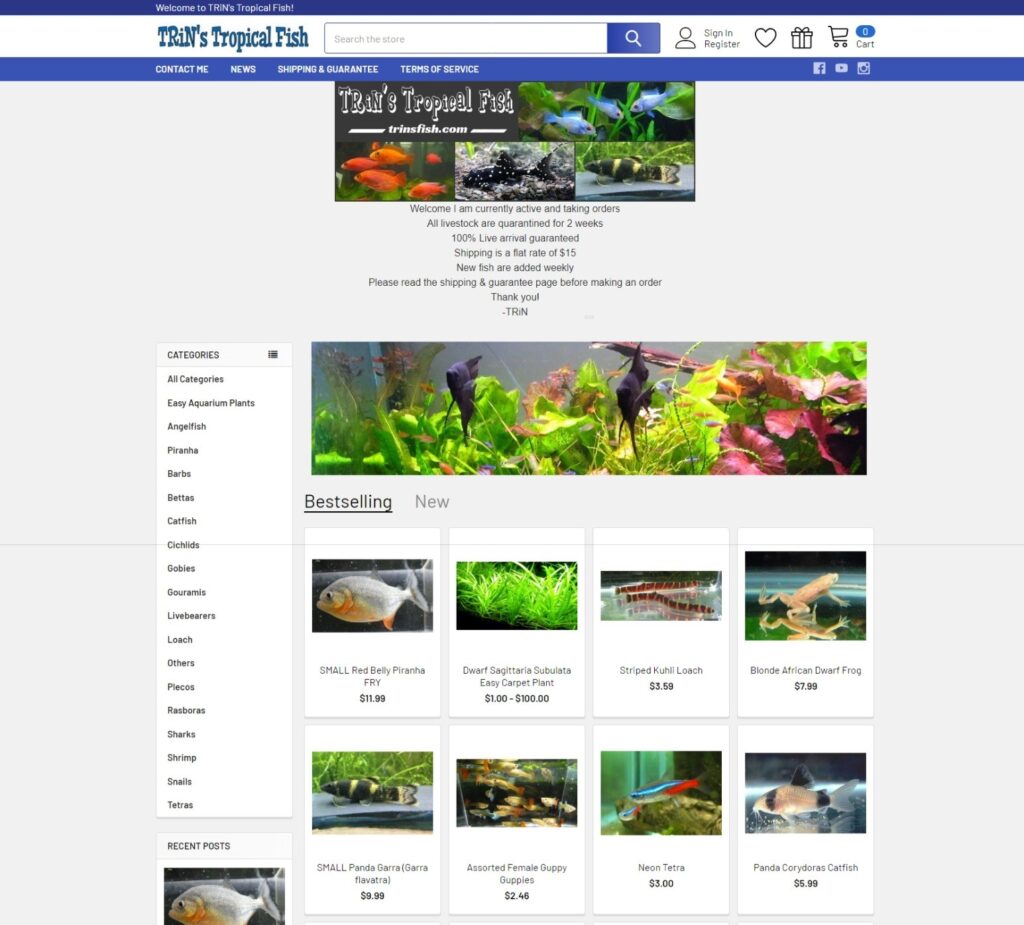 Trinsfish is a well-known online destination for freshwater aquarium enthusiasts. They offer a diverse range of aquatic life, including fish, plants, crabs, snails, and shrimp. Their commitment to quality is evident in their offerings, ensuring that customers receive high-quality aquatic life at affordable prices. The shop's online presence is robust, with a user-friendly website that showcases their extensive inventory and provides essential information for both novice and seasoned aquarium hobbyists.
Based on the feedback from Trustpilot, Trinsfish boasts an impressive rating of 4.3 out of 5 stars. This rating is derived from 45 reviews, with a significant 71% of reviewers awarding the shop a full 5 stars. Such a high percentage of positive reviews indicates a consistent level of satisfaction among their customers.
One of the many satisfied customers, Anna, shared her experience on Trustpilot on April 7, 2023. She wrote, "Love the frogs I got, packaged well. Thank you!" This review, dated February 08, 2023, highlights the shop's attention to detail when it comes to packaging and ensuring that the aquatic life reaches the customer in optimal condition. Anna's positive feedback is just one of the many testimonials that vouch for Trinsfish's commitment to quality and customer satisfaction.
6. Wet Spot Tropical Fish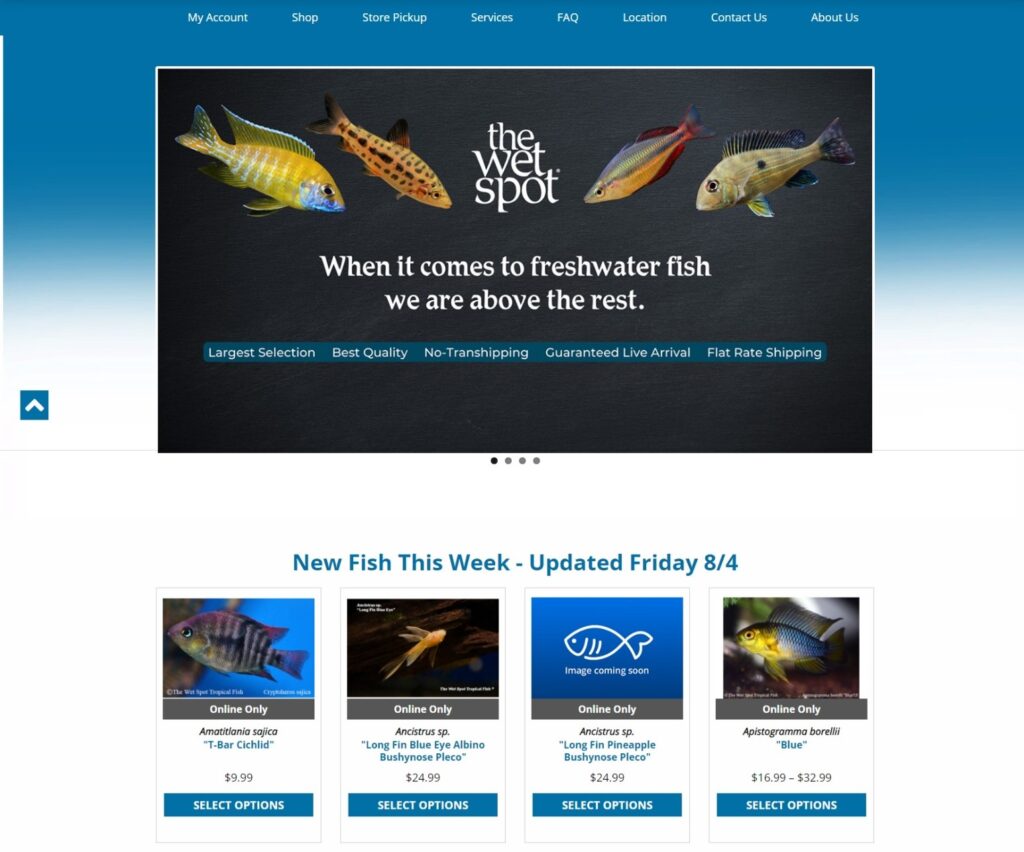 Located in the vibrant city of Portland, Oregon, Wet Spot Tropical Fish shines as a haven for passionate devotees of freshwater fish. With its vast collection of aquatic life, the shop has garnered a commendable rating of 3.9 stars on Yelp, a testament to its dedication to quality and customer satisfaction.
The store boasts an extensive selection of freshwater fish, ranging from the common to the unusual. But it's not just the variety that has won the hearts of many; it's the quality and health of the fish, the vast range of aquatic plants, and the top-notch merchandise that sets Wet Spot Tropical Fish apart. Whether you're looking for African Cichlids, Discus, Catfish, Tetras, or even fancy Goldfish, this store has it all. And for those looking to enhance their aquarium's aesthetics, the shop offers a fantastic selection of live plants, lighting solutions, and complete CO2 systems.
But what truly brings the store to life are the experiences and reviews shared by its patrons. One such review by Erick L. from Stamford, CT, captures the essence of the store's dedication to its customers. He writes, "My first time ordering was an incredible experience. I have over 40 years of experience in the freshwater and saltwater aquarium hobbies. This business does a great job in its dedication to its online customers. From communication to pricing, shipping, packaging, and the quality of livestock, everything was top-notch. If we were friends and I wanted you to have a good experience ordering where you could trust that from beginning to end you would get a good experience, then hands down I would recommend this place without reservation."
7. Aquatic Arts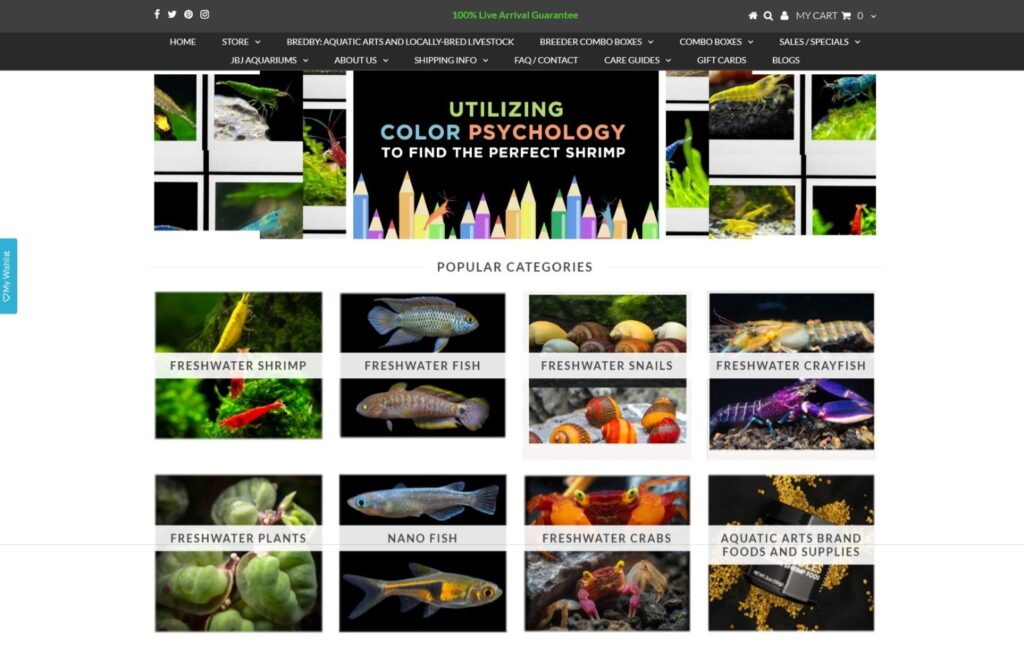 Aquatic Arts, located in San Diego, is a renowned destination for all things aquatic. Specializing in ponds, fountains, aquariums, and other exotic aquatic features, they have carved a niche for themselves by providing top-tier cleaning and maintenance services. Their commitment to creating and maintaining healthy, vibrant aquatic environments is evident in their specialized wellness and training services. The website, Aquatic Arts, showcases a diverse range of products, from freshwater shrimp and fish to plants and crabs, emphasizing their dedication to the aquatic world.
Their reputation is further solidified by the glowing reviews they've received on Yelp. One satisfied customer, Gretta C. from Seattle, WA, shared her delightful experience, stating, "Delivery time was exactly what you'd expect when dealing with live animals. They take care to make sure delivery conditions are ideal, and clearly care a lot about what they do. They keep a super clear line of communication. The animals are delivered in fantastic condition, and customer service is fast and thorough if you have any problems. My favorite place to order fish and plants from." Such testimonials underscore Aquatic Arts' commitment to excellence and their unwavering dedication to customer satisfaction.
8. Imperial Tropicals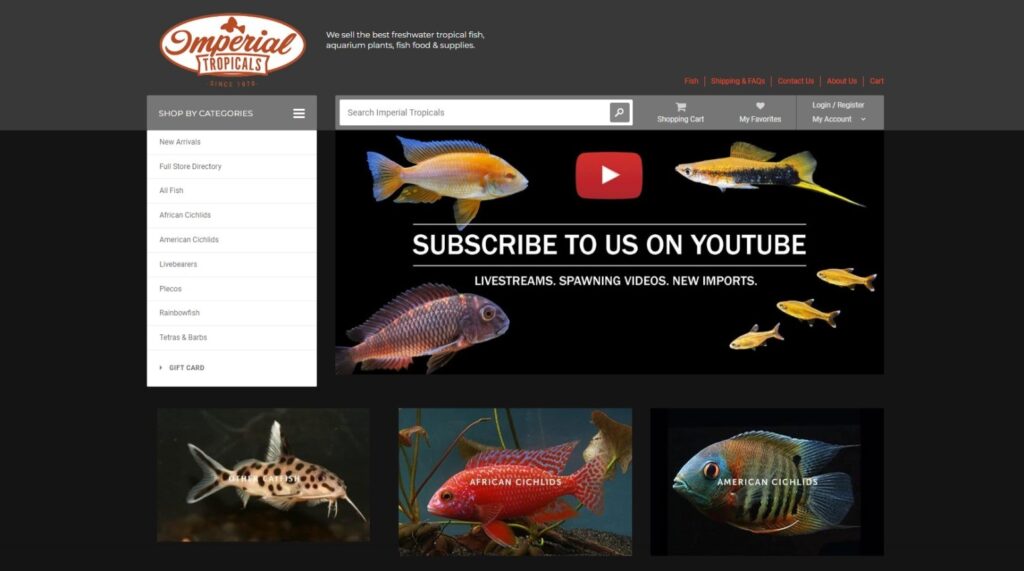 Imperial Tropicals is a premier destination for freshwater tropical fish enthusiasts. They pride themselves on offering the finest selection of tropical fish, aquarium plants, and related supplies. With a commitment to quality and customer satisfaction, Imperial Tropicals ensures that every aquatic life enthusiast, whether a novice or an expert, finds exactly what they're looking for. Beyond their online presence, they also engage with their community through their active YouTube channel, ImperialTropicals, where they share insights, tips, and showcase their vast collection. Whether you're shopping for a new addition to your aquarium or seeking knowledge, Imperial Tropicals stands as a trusted resource in the world of aquatic life.
9. AquaBid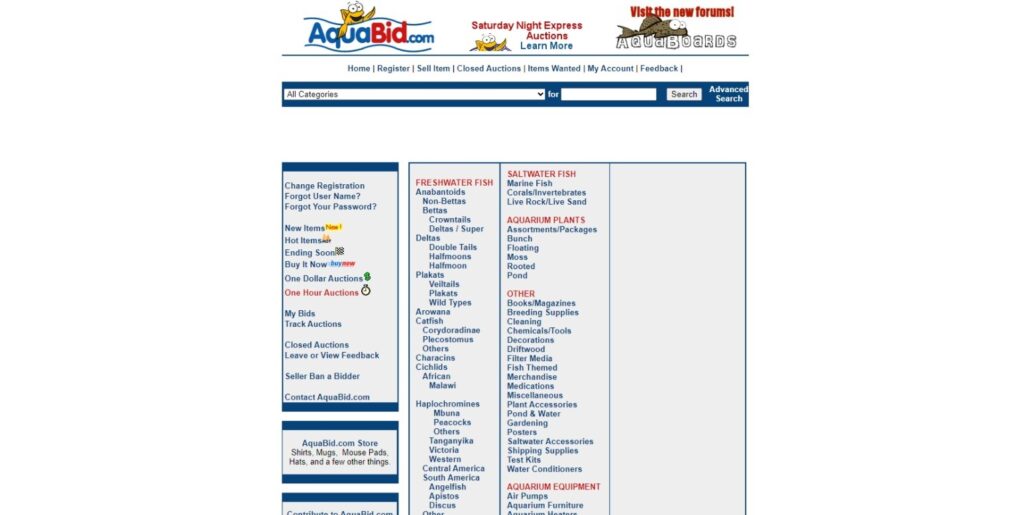 AquaBid.com is an auction platform dedicated to the world of aquatic life. Serving both freshwater and saltwater enthusiasts, the platform offers a comprehensive range of products, from various species of fish like Bettas, Arowanas, Cichlids, and Killifish to aquarium equipment, plants, and even fish-themed merchandise. Whether you're looking for a specific type of fish, live plants, or essential aquarium equipment, AquaBid.com has it all neatly categorized for easy navigation.
Beyond just being a marketplace, AquaBid.com emphasizes the responsibility of both sellers and buyers to adhere to local governmental laws and regulations, ensuring a safe and legal trading environment. The platform's longstanding presence since 2000 showcases its dedication to the aquatic community. With its commitment to user privacy and a clear user agreement, AquaBid.com has established itself as a trusted name in the industry.
10. Tampa Bay Cichlids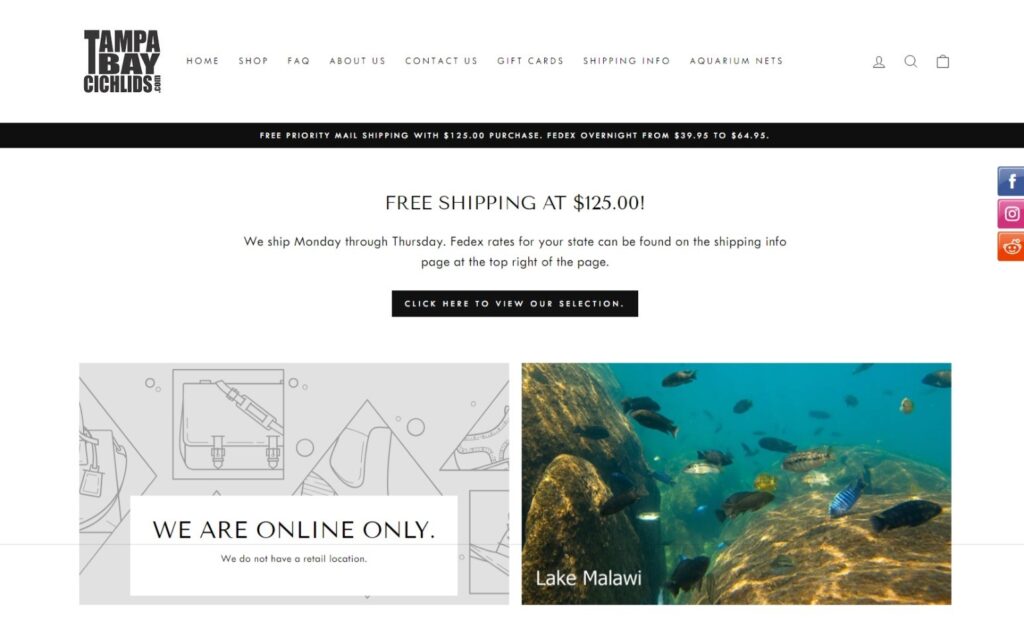 Tampa Bay Cichlids is a dedicated online platform for cichlid enthusiasts. They offer a diverse range of cichlids, from Mbuna and Aulonocara (Peacocks) to Haplochromis, Victorian Cichlids, and even New World Cichlids. The store also provides a selection of fish from Tanganyika, West Africa, and other regions. Beyond cichlids, they offer various other fish, catering to different sizes and preferences. For those looking to nourish their aquatic pets, Tampa Bay Cichlids has a range of fish food available. One of the standout features of the store is its commitment to customer convenience, offering free shipping on all orders over $125.00. It's worth noting that Tampa Bay Cichlids operates exclusively online, without a physical retail location.
As for customer feedback, a user on Reddit mentioned that Tampa Bay Cichlids stands out in terms of price and selection. The user highlighted the appeal of the store's pricing for young male guarantee options, indicating a positive impression of the store's offerings and value.
BONUS!
I haven't done any research, but I think these fish shops are worth checking out: